Silent Storm
ᠤᠯᠠᠭᠠᠨᠪᠠᠭᠠᠲᠤᠷ
MANY ROADS ARE CUT OFF
BUT YOU TRAVEL TO THE END OF THE WORLD
1.564.116 km² area
3.3 million people
Almost over night you decide to set off and you hope to leave the noise of war behind
As soon as I arrived at the capital's airport, I had to hand my biometric data: all fingerprints and a face scan. A few days later we set off for Arkhangai. We reached the lake district in the evening, and fled already early from the cold wind into the tiny tent. I was lying awake for a long time. And I woke up after disturbing dreams, aware of an undefined threat. When we left in the morning I looked with quiet sadness at the wild yaks, which, for all their freedom of roaming, remained cattle, managed, fattened and slaughtered, their front hooves tied together to prevent them from running away, while their burdens were imposed on them.
"The preparations for possible coup fantasies had been very concrete …", the press release says
From a distance, I was even more struck by the general conformity, a re-education and coercion that made a mockery of all liberal achievements. A gigantic perversion of values and ideals. Yes – in the divine silence and vastness of nature I could escape for a while. The people in the yurts lived proudly and in dignity a more or less independant life as cattle breeders and nomads. They also lived with cars, cell phones and solar cells but still preserved their traditions that had grown over generations. They were subject to the forces of the seasons and the scarcity that came with them, but they were less exposed to the constraints of civilization than people in the city. ––– "I can't imagine a better life than that of a cattle breeder", our young companion told us.
As long as you are on the road, all your habits are suspended
There was something sobering and sad about our drive back. The islands of human inhabitants became more dense. An increasingly ugly urban sprawl and traffic congestion the closer we got to the capital – in four-lane traffic jams heading towards the city – evoked a sense of civilizational unease. The contrast with the deserted green expanses could not have been greater.
Then the dark city illuminated by neo signs, the brutality of the traffic and the chaos of the crowds, the parked-up streets and roads, the hustle and bustle of people running over each other with all their errands and purchases. The focus was not on the individuals, but on their exploitation under new auspices.
Back in my hotel room, I heard a business meeting taking place in the conference hall below me and I listened to the moderator's voice among the mongolian pop songs and folk music I already knew from our trip in the Russian-built minibus. I still couldn't quite bring myself up to step out of the door and walk through the cityscape again … [Улаанбаатар 20XX]
You can see how the earth touches the sky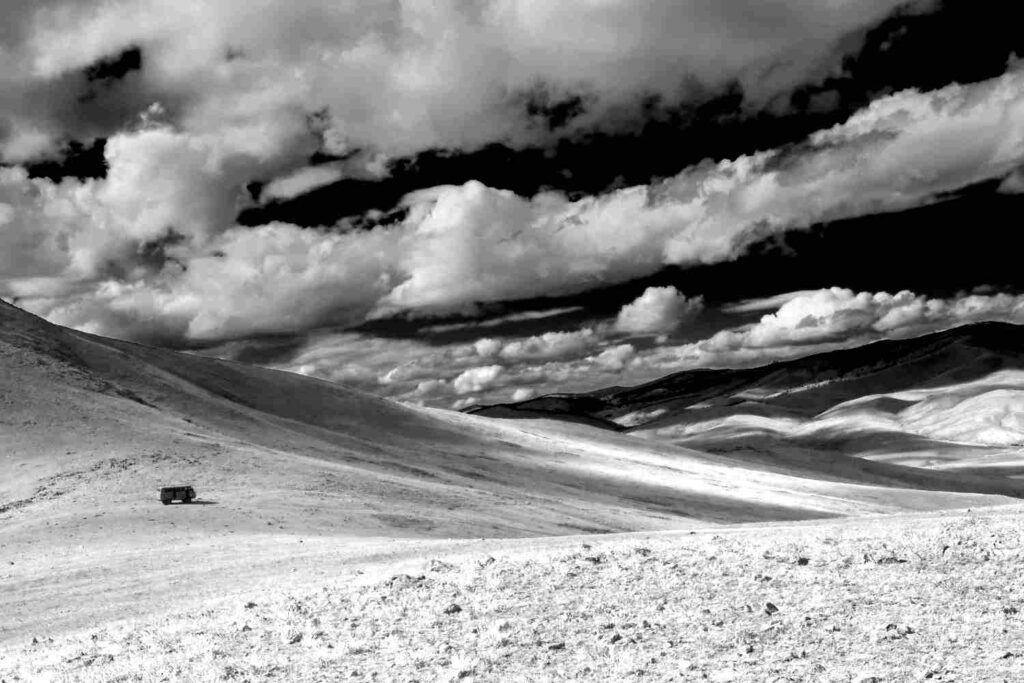 Farewell to the end of the world
At some point this pass had become completely impassable, the way blocked by high accumulations of sand. But I took a shortcut over rocky mountains and was amazed myself at how easily I slid down the slopes without losing my footing – my hands found their grip, my feet gained ground, and I glided down the rocks as if in dense flight …
Without thinking too much you jump over the abyss
[Mongolian Episode]